Hi. I'm Binta. I'm glad you've come to visit me in Burkina Faso (buhr-kee-nah fah-soh). Would you like to help me with my chores? I milk the cows, gather firewood, pound millet grain into flour, and sweep our hut – all while carrying my baby sister on my back! Hand me that large pot. We can talk on the way to fetch water.
Our huts are arranged in a circle. The cattle gather in the middle at night. Our cows are the center of Fulani life and caring for them is very important. My father and brothers are with our herd right now, looking for water and good pasture. Our cows give us food like milk and yoghurt. They also represent strength and prestige. The status of our family is determined by the size and health of our herd.
My friends and I don't attend school, but we are well educated in pulaaku (poo-lah-ku), principles for living. We value cooperation and hard work. Everyone is expected to do his part. Peace is important so we avoid situations that might lead to arguments. We value self-control. Admitting that we have needs or showing our feelings are signs of weakness. We show no emotion, even when we're sad, angry, or hungry.
Since hunger is a sign of human weakness, it is disgraceful for a woman to see a man eat. The men go off by themselves at mealtime and women and children form their own groups. We share our millet porridge from a calabash, a hollowed out gourd-like vegetable that serves as a common serving bowl. Using the fingers of our right hand, we form a sticky porridge ball and dip it into slimy green sauce. We normally eat in silence, but burping loudly to show appreciation for a good meal is very acceptable!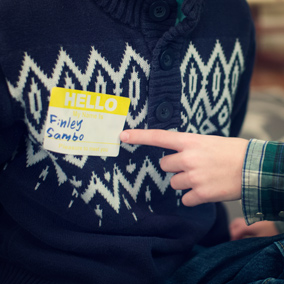 Family Activity
Names are so important to the Fulani. Just like you, children have a first name and last name (clan name). Middle names tell two things: 1. whether you are a boy or girl and 2. your birth order. Use the chart below to find your Fulani middle name. Have each family member make a nametag that shows his first name, middle name, and clan name. Wear your nametags and address each other by your Fulani names.
                       Boy Child                        Girl Child
1st born          Hamma(hahm-mah)       Haawa (hah-wah)
2nd born         Sambo (sahm-boh)         Kumbo (kuhm-boh)
3rd born          Yero (yeh-roh)                Pendo (pehn-doh
4th born          Paate (pah-teh)              Daado (dah-doh)
5th born          Dembo (dehm-boh)        Takko (tah-koh)
6th born          Njobbo (en-joh-boh)       Demmo (dehm-moh)
7th born          Kodda (koh-dah)            Seebo (see-boh)
Pray:
Pray that Fulani families will come to know Jesus, the Good Shepherd who lay down his life for his sheep. Pray that they will understand that God loves and accepts them just as they are.
Fulani families have a mixture of Muslim beliefs and superstitious practices. Pray that God would replace their fear of spirits with the joy of a relationship with their Creator God.
Fulani

Millet Mush
West Africa
Preparation Time: 25 minutes | Serves: 6-8
Ingredients
2 cups uncooked rice (instant or slow cooking)
4 cups of water
6 tablespoons butter or margarine
2 tablespoons flour
2 teaspoons salt
¼ teaspoon pepper
2 cups milk
green food coloring
Read more
Which principle of Pulaaku would be most difficult for you to follow?