Hi. I'm Nargis (nahr-geez). Welcome to Tajikistan (tah-jeek-ih-stahn). You've probably heard of two of our neighboring countries, China and Afghanistan. My ancestors have made this part of Central Asia their home since Bible times. The first Tajiks were already living here when God rescued Daniel from the lion's den in ancient Babylon.
Tajikistan has changed a lot since then. Now we have modern cities like Dushanbe (doo-shahn-bay), our capital. I've visited my cousins there. They live in an apartment with running water, electricity, and even an indoor bathroom. Usually, my cousins walk to school or the market, but they treated me to a ride in a taxi. Our driver wove in and out of traffic, honking his horn whenever he changed lanes. The city streets were too crowded and noisy for me.
I prefer my peaceful home, high in the mountains. The only traffic jams in our village occur when slow-moving flocks of sheep block our path. No honking, just baa-ing. My family's house looks very different from my cousins'. Our one-story home is made of mud bricks. We have a dirt floor that my mother covers with large, colorful rugs. Strong wooden beams support our thatched roof. Because our roof is flat, we can use it in fun ways. After picking ripe apricots from our trees, we carry the fruit up to the roof, using a ladder. We spread out the fruit on a clean cloth and leave it to dry in the sun. Once the apricots have dried, we gather and save them for winter. Dried apricots make a nutritious treat during the winter months when we cannot grow fruits and vegetables in our garden.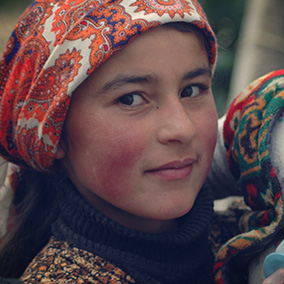 Family Activity
Imagine that you are visiting Nargis in her village home. Spread out colorful beach towels or blankets on the floor. Take off your shoes, sit down, and share a Tajik treat of apricots, raisins, prunes, or dates.
Pray:
Most Tajiks people have not experienced the love of Jesus. Tajik comes from the word toj (tahj), meaning crown.  Read Psalm 103:4 together.  Finish this sentence: God wants to crown Tajik families with  _____.  Pray that they will come to understand how much God loves them.
Most Tajiks do not know Jesus as their Savior. They try to please God by doing more good things than bad things. Read Acts 4:12 together. Finish this sentence: God wants to crown Tajik families with  _____.  Pray that they will understand that Jesus died for their sins to bring them back into a pleasing relationship with God.
Tajiks of Tajikistan
Draniki
(drah-nee-kee)
Easy Potato Pancakes
Central Asia
Preparation Time: 20 minutes | Serves: 6
Ingredients
1/4 cup frozen hash brown potatoes, thawed
2 tablespoons milk
1/2 teaspoon salt
vegetable oil
1 egg
1 tablespoon flour
dash of pepper
sour cream
Read more
Did your kids connect with Nargis?