I'm Raju. Nomaashkaar (noh-mush-kar). That means "hi" in the Bengali language. Welcome to northeast India. Three years ago, my father moved our family to this city in search of a better life. In the village where I was born, we lived in a thatched hut near the tea plantation where Father worked. We didn't have electricity so we depended on kerosene lanterns at night. It was hard to sleep because of buzzing, biting mosquitoes. Some days there was work in the fields, but many days there was none. When we came to Kolkata, Father landed a job selling healing oil that cures aches and pains. He gathers a crowd of train passengers on the platforms and earns 60 rupees a month in sales!
My parents, sister, and I rent one room on the third-floor of a boarding house. We do not have a bathtub or sink, but there is a waterspout on the ground floor where we wash up. Mother cooks our fish curry, rice, and vegetables in a clay oven on the street. She carries our meals upstairs where we eat sitting crossed-legged on the floor. In one corner of the room is a small shrine to our Hindu gods. Every morning we bow before the idol there, burn incense, and leave a small dish of rice.
While Mother shops at the outdoor market, I take care of my little sister. She loves playing hide-and-seek. Later I join friends for a game of soccer. Although much of India prefers cricket, soccer is very popular here in West Bengal. Rather than playing ball on the crowded street, we head for the train tracks. That way we don't have to dribble around taxis and buses. When commuter trains barrel through, we jump off the tracks, feeling a strong "whoosh" of hot air as they pass.
My favorite school subjects are math and science. I hope that my family can afford to send me to high school and university. I dream of working with computers in the booming IT industry.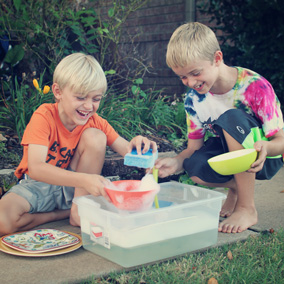 Family Activity:
What might it be like to live in one room like Raju's family, without an adjoining bathroom or kitchen? Try it. Choose a night when everyone is home. Bring your bedding or sleeping bags into a room where you choose to spend the night. Cook dinner outside on the grill. Wash up for dinner using a hose, outside faucet, or bucket. Bring your dinner inside the room where your bedding is and eat your meal sitting on the floor. Do a fun family activity together outside or all in the same room. Wash up outside and then go to sleep. (One exception: you may use the toilet inside.) The next morning, discuss your experience. What did you enjoy? Would it be difficult to get used to?
Pray:
Hindus believe that acts of worship like offering gifts to statues of their gods can make their hearts clean. Pray that they will trust in Jesus to remove their sin and give them hearts that are pleasing to God.
Kolkata is known as the City of Joy. Pray that Hindu families in Kolkata will turn from worshiping idols and find true joy in following the true God who created and loves them.
Hindus of Kolkata

Namkeen
(num-ken)
South Asia
Preparation Time: 30 minutes | Serves: 8-10
Ingredients
1 tablespoon coriander seeds
1 ½ teaspoon cumin seeds
2 tablespoons slivered almonds
5 cups chex cereal
half of a 5-ounce can chow mein noodles
1 cup peanuts (allergies, substitute ½ cup small pretzels)
1 ½ teaspoon salt
½ teaspoon ground black pepper
½ stick of butter or margarine (4 ounces)
Read more
If Raju were your friend, what would you share with him about worshiping idols?