Hi. I'm Li Bao. I live in with my parents and grandmother. Mom works at one of the largest tea markets in northern China. Father is an engineer. Grandmother looks after me and helps with the shopping and cooking.
Each morning, I walk to school with my friends.
We begin class with jumping, twisting, and turning exercises to make us alert and prepare us for learning. We spend the morning studying math and learning to read and write Mandarin Chinese. My school uses the western alphabet, but since I love drawing, Grandmother is teaching me the traditional way of writing. I create Chinese characters using a special pen dipped in ink. Characters look like small pictures, but they are more like words.
Near the end of school, we straighten books and supplies, sweep the classroom floor, and tend the vegetable garden outside. Each grade is growing a different vegetable – ours is eggplant.
On our walk home, my friends and I stop at a fruit vendor's cart for pears, a yummy after-school snack. At home, Grandmother is chopping vegetables for dinner. I greet her and begin my homework. I must study hard to get into a special high school for students going on to the university. Father says education is the way to a good job and a successful life.
When my parents return from work, I join the family around a low, round table for dinner. Using chopsticks, we eat zhah jiang mian (jaj jiong mee-ehn), a spicy dish with noodles, vegetables, and ground pork. We're discussing plans for the upcoming Moon Festival.
This national holiday falls on the night of a full autumn moon. I'm making a paper lantern to carry in the children's lantern parade that evening. We've invited my aunt and uncle to join us for a picnic dinner at a nearby lake where we can see the reflection of the moon sparkling in the water. For dessert, we'll munch on mooncakes filled with dried fruits, nuts, and red bean paste.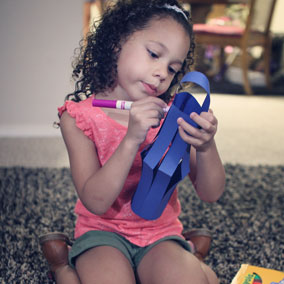 Family Activity:
Make your own lantern. Choose your favorite color of 9 x 12-inch construction paper. Cut off a strip, 1-inch wide, from one of the short sides. Set this aside for the lantern's handle. Fold the piece of construction paper in half, lengthwise. Starting from the folded edge, use scissors to cut a slit up to within an inch of the top of the paper. Continue cutting slits about one inch apart across the length of the paper. Unfold the paper. If you wish, make designs across the top and bottom borders using markers, glitter glue, fabric, ribbon, stickers, or other lightweight decorations. Form your paper into a tube with the slits going up and down. Overlap the long edges. Staple or tape at the top and bottom corners. Use the paper strip you saved to make a handle. Staple or tape it to the top of your lantern.
Pray:
• Many Han Chinese do not believe God exists. They trust in their own efforts to become successful in life. Pray that as Han Chinese families learn about Jesus, they will trust in Him to provide for their needs.
• Han believers are often treated harshly for worshipping Jesus in ways that are not approved by the Chinese government. Ask God to give believers strength and courage to live out their faith and share Jesus with others.
Han
Mooncakes
Southeast Asia
Preparation Time: 90 minutes | Serves: 8-10
Ingredients
4 cups all purpose flour
2 teaspoons baking powder
½ cup granulated sugar
6-7 tablespoons cold water
2 tablespoons corn syrup
½ cup vegetable oil
2 eggs
½ cup chopped dates
½ cup orange marmalade
½ cup chopped walnuts
¼ cup sweetened flaked coconut
¼ cup chopped raisins
Read more
Which Moon Festival activity would you most like to experience?