Hi. I'm Mahmoud. From the hilltop near my home, I spy Ali coming home. He works at a bank in the nearby city of Berkane (bihr-kahn). As Ali gets out of the taxi, Grandmother takes a break from tending the sheep to kiss him on both cheeks and greet him lovingly. My brother removes his shoes, follows us inside, and switches from the Arabic he speaks in town into tamazight (tah-mah-zeekt), the language Riffi families speak at home.
My brother is just in time for dinner. We sit on cushions around a low table. Mother removes the tall cone-shaped lid from the tajine (tah-jeen), a clay pot she uses both for cooking and as a shared serving bowl. We use bread to scoop up the thick stew from the tajine. Afterwards we drink mint tea and munch on sweet dates.
Early Saturday morning, my father, brother, and I head to the souk (sook), an outdoor market. We join crowds of men dressed in long robes called djellabas (jeh-lah-bahs) and stroll amidst tables piled high with spices, fruits, hardware, and machine parts. A floral scent fills the air near the spice seller grinding fresh saffron! We buy the oranges Mother requested and visit the table that sells my favorite snack – boiled snails.
My sister returns home at the same time we do. She's been to the bakery to pick up the round loaves of bread Mother prepared early this morning. Most families do not have ovens, so we take our bread dough to the village baker. He bakes the loaves in his wood-heated oven and they are ready to be picked up by late afternoon. Each family presses a special design into their bread dough so we know which loaves are ours.
My father is unemployed so my family can no longer afford to send me to school. I loved my teacher. Once he held a contest to see who could memorize the most verses from the Koran (kuh-rahn), our Muslim holy book. For now, I am learning a trade to earn money – building tambourines and drums. Someday I'll move to the city or even to Europe to find a better way of life.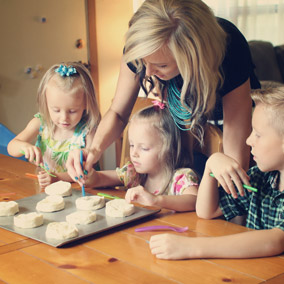 Family Activity:
Riffians (Riffi Berbers) have a saying: "A meal without bread is not a meal." Join Mahmoud's family in creating your own designer bread. Give each person a round piece of biscuit dough. Refrigerated cans of biscuit dough work great. Use toothpicks to press special designs deep into the dough. Place the biscuit dough in a pan and bake according to the package directions. While the biscuits bake, spread pillows or cushions on the floor and prepare some tea. When the biscuits are ready to eat, sit down on the cushions. Enjoy your designer bread and tea.
Pray:
Riffians proudly call themselves "the free people." Pray that they will come to know Jesus and experience true freedom and hope that comes from believing Him.
Pray that European believers will welcome and share Jesus with Riffians who immigrate to their cities in search of jobs.
If you had to drop out of school to learn a trade, what would you miss most?