Hi! I'm Mohammed. Welcome to my home on the Persian Gulf, where we enjoy summer weather year-round. I'm visiting my dad at his office in Dubai (doo-bye). He works in the tallest building in the world, the 163-story Burj Khalifa (behrj kah-lee-fah). As I survey the city from Dad's windows, it's hard to believe that this area used to be a barren desert. Tall skyscrapers, shopping malls, and busy highways have replaced the small fishing villages that hugged the coast.
Today, people from 150 nations have come to live and work in my country, the United Arab Emirates (eh-muh-ruts). Even though we are followers of Allah (ah-lah), we are tolerant of people from other cultures. Not only do our cities have mosques (mahsks) where Muslim families worship, but also Hindu temples and Christian churches.
My family lives in a large two-story home. We have two servants who live with us and take care of everything that we need. They left their homes in the Philippines to work here. During the week, I go to school with my brother. My sisters go to a different school for girls only. On weekends, my friends and I play soccer or hang out at the arcade in the air-conditioned mall. One mall has an indoor ski slope with artificial snow. We rent skis and swoosh down the hill even though it's 110 degrees outside! Sometimes Dad takes my friends and me to the camel races. We sit in the stands and cheer as the galloping camels kick up clouds of dust.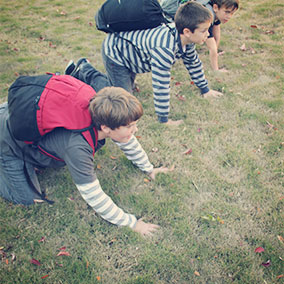 Family Activity
With your brothers, sisters, or friends, imagine that you are camels at the racetrack in Dubai. Plan out the route where you will race. For your hump, put a basketball or pillow in a backpack. Strap on the backpack and go to your starting line. Get down on your hands and knees. Ready-set-go!
Pray:
 Although families like Mohammed's are rich in material things, they have no way to learn about Jesus, the only one who can satisfy the longings of their heart. Read Jeremiah 9:23-24. Pray that Emirati Arabs will put their trust and hope in God.
Filipino women who are believers often serve as housemaids or nannies in Emirati homes, devoting their lives to the moms and children. Pray that the Godly character of these women will cause family members to want to know more about Jesus
Emirati Arabs
Basbousa
(bahz-boo-sah)
Semolina cake covered in syrup
Middle East
Preparation Time: 1 hour | Serves: 16
Ingredients
1/2 cup sweet butter (unsalted), melted
2 small eggs
1 teaspoon baking powder
blanched split almonds
1 cup sugar
2 cups fine yellow semolina
1/2 teaspoon baking soda
syrup (recipe follows)
1/2 cup water
Syrup:
2 ¼ cups sugar, juice of 1 lemon, 1 ½ cups water
Read more
What did you learn about the Emirati Arabs?