Hi. I'm Mei Ming (may ming). My friend and I are practicing the Peacock Dance, the most famous folk dance of our people. We have been chosen to join the older girls in a performance. Wearing colorful dresses we will move like birds, gracefully flapping our wings as we leave our nest, craning our necks to look for water, and shaking off our feathers after we have bathed.
The Peacock Dance is part of our three-day Water Splashing Festival that ushers in the Dai New Year each April. The first two days are filled with dragon boat races. Families line the river to watch teams of up to 24 men paddle their long boats as they race towards the finish line. The third day is filled with activities that will guarantee good luck and ensure a good harvest in the coming year. Our family dresses in our best clothes and joins with other villagers at the temple to listen to Buddhist scriptures. Some of the women carry a statue of Buddha outside and use water to bathe it. This good action will earn them merit, points that will give a better standing in their next life.
Next comes my favorite part of the festival – water splashing. Everyone grabs the biggest buckets and bowls they can find. Some boys come armed with squirt guns made from hollow bamboo. Clanging cymbals and drumbeats announce the start of a procession to the area where the water war takes place. Everyone starts yelling as they splash or dump water on people nearby. Water symbolizes washing away the mistakes, problems, and bad luck from the past year. My friend sometimes cries when she gets soaked. I tell her, "Cheer up. The wetter you get, the more luck and happiness you will receive."
When my friend walks me home, Grandmother greets us. She takes care of my brother and me after school and is busy making dinner. Father will work in the fields until dusk. Mother left early this morning carrying two large straw baskets of vegetables. She sells eggplants and beans from her garden at a local market nearby. It must have been a good selling day for her to stay away this long.
As Grandmother unwraps the roasted banana leaves, the fragrance of bamboo rice fills the air. We will eat this along with pickled vegetables and green tea. My brother has borrowed some bamboo from Grandmother and is fashioning his squirt gun. He must be looking forward to the Water Splashing Festival, too.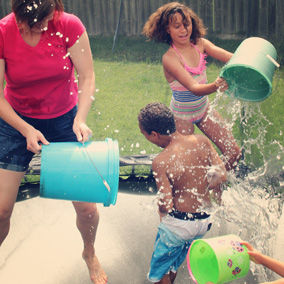 Family Activity:
Help Mei Ming welcome the Dai New Year by celebrating the Water Splashing Festival. Put on clothes that you don't mind getting wet – maybe even your bathing suit. Fill a container of water for each person in your family. You can use squirt guns, buckets, bowls, or pitchers. Take your filled containers outside. On the count of three, yell "Happy New Year!" Soak, don't sprinkle your family with water.
Pray:
Most Dai families do not know the true God. Young people trust in science to explain the world while older people pray to Buddhist idols. Pray for global workers to share the good news of Jesus with Dai families.
Many Dai families fear powerful spirits and give them offerings so these spirits will not harm their them. Pray that as Dai families come to know Jesus, their fear will be replaced by joy and hope.
Dai
Carrot Salad
Southeast Asia
Preparation Time: 20 | Serves: 4-6
Ingredients
1 pound large carrots
2 tablespoons pickled chiles or pickled jalapeno peppers, cut into ½-inch slices
3 scallions
1 tablespoon soy sauce
1 tablespoon rice vinegar
1 teaspoon roasted sesame oil
½ teaspoon salt
2-3 tablespoons coriander leaves, coarsely chopped or 1 tablespoon dried
Read more
Which part of the Dai New Year celebration interests you most?