Hi. I'm Yeshey. Welcome to Thimphu (tim-poo), our capital city. While your body adjusts to high altitude, breathe deeply and enjoy the beautiful views of snow-capped mountains. Our king lives in this city. He wishes to keep our cultural heritage strong. One way is through our architecture. By royal decree, all the buildings are constructed in the traditional style. Notice the white walls, dark carved wood trim, arched windows, and sloping roofs.
We also have a national dress code. This knee-length robe that I'm wearing is called a gho (go). Men are required to dress like this to work in public places. Boys my age often wear T-shirts and jeans underneath our robes. My mother and sisters must wear the kira (keer-ah), a long, woven dress.
Our Buddhist religion is part of Bhutanese culture, too. Thousands of years ago, a wise man from Tibet flew across the Himalayas on the back of a tiger and introduced Buddhism to Bhutan.  A famous monastery called the Tiger's Nest was built on the mountainside where this wise man meditated. Monasteries and temples dot the landscape. Most homes have prayer rooms with an altar where families worship, burn incense, and offer gifts to statues of Buddha.
Right now, we're going to the National Institute, a school where you can see traditional Bhutanese arts and crafts like woodworking, painting, weaving, basketry, and pottery. I hope to study there to carry on my family's weaving business.
Tomorrow we'll visit my relative's village. Most people there are farmers who raise wheat, mushrooms, apricots, and chiles. You'll see chiles drying on the roofs. These go into ema datshi (ay-mah dot-see), a popular spicy stew that will set your tongue on fire! You can try your hand at archery, Bhutan's national pastime. Every village has an archery range and takes local tournaments very seriously! Using bamboo bows, contestants shoot arrows at brightly colored wooden targets. Everyone joins in the cheering, dancing, and joking – all in the spirit of friendly competition.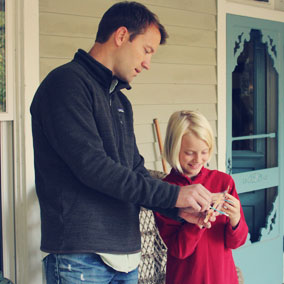 Family Activity:
Celebrate Bhutan's favorite pastime by making mini bows and arrows. You need craft/popsicle sticks, dental floss, and Q-tips/cotton swabs. Using a sharp knife, make two small notches on each edge of the craft stick near the end. Repeat near the other end. Put your notched sticks in a glass of water and let them soak for 90 minutes to make them flexible. Afterwards, tie a piece of dental floss around the notches on one end of the stick and wrap it a few times. Carefully bend the stick to make it bow. Wrap and tie the other end of the dental floss around the remaining two notches. Make sure the dental floss is taut and tied on the same side of the stick on both ends. Cut off excess floss. To make arrows, use nail clippers to remove the cotton from one end of each cotton swab. Practice shooting your arrows at targets or into containers.
Pray:
Pray that Bhutanese families will turn from worshipping idols of Buddha and worship the true and living God.

Buddhism is the national religion of Bhutan. Small numbers of families who follow Jesus are persecuted. Pray that God will encourage these believers and send them out in boldness to share the good news of Jesus with their relatives and friends.
Bhutanese

Ema Datshi
Chili Cheese Stew
South Asia
Preparation Time: 30 minutes | Serves: 4
Ingredients
½ pound green chiles (poblanos or anaheim)

1 medium sweet onion

¾ cup water

½ pound feta or another mild cheese

2 teaspoons vegetable oil

2 tomatoes

4 garlic cloves

½ teaspoon fresh cilantro

4 servings of rice
Read more
The Bhutanese have a legend about how Buddhism spread to their country. How did Christianity come to your country?