Library
Tools for growing and engaging together
Enhance your family's learning experience with these additional tools. Be challenged in new ways, grow deeper in specific areas, or recommend resources to other families who are on this journey with you. Gathered from across the publishing and ministry world, the resources recommended here represent the best materials available on missions and children. Multiple search features make it quick and easy for you to find what you're looking for. Each resource includes detailed descriptions and a direct link for ordering. Explore products exclusively from Weave by clicking the "Created by Weave" tab.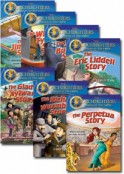 Christian History Institute, Voice of the Martyrs, 2012
A series of 17 animated programs presenting the lives of true-life heroes from Christian history. Recommended for ages eight and older due to elements of persecution and martyrdom. Series includes the stories of Perpetua, Richard Wurmbrand, Eric Liddell, Jim Elliot, Gladys Aylward, William Tyndale, John Bunyan, William Booth, Samuel Morris, Amy Carmichael, Augustine, Corrie ten Boom. John Wesley, Martin Luther, Adoniram and Ann Judson, Robert Jermain Thomas, and Harriet Tubman. Also available in a DVD set. Videos run an average of 30 minutes.
Find it here:
Category

Target Age

Format

Publisher

Language